For many businesses the creation, resizing and editing of simple images to go on websites, in blog posts or email newsletters can be a real headache. It can often be the roadblock that stops the spontaneous article or post being published. Worse still a badly edited image is used which negatively impacts rather than enhances the content of the piece. Perhaps this is one of the reasons why Facebook and Pinterest are so popular as people can just upload the photo not worry about dimensions and optimisation?
To help with this problem we thought we would share with you some of the screen capture and image editing tools we find useful.
Screen Capture Tools
1. Snipping Tool in Windows:
Many people are unaware that they already have a free screen capture tool available in their Windows Programs.
Just go to All Programs => Select Accessories ==> Choose Snipping Tool
The tool will open in a pop-up box. With the New button selected just drag your cursor around the area of your screen that you want to capture as an image. An editor will open that allows you to save, annotate or share the image.
This is a very basic screen capture tool. Only simple pen and highlighting functions are available but it's free and may suffice.
2. 'Snagit' by Techsmith:
This is my all time favourite screen capture tool by TechSmith.com . I find it indispensible and use it every day. It's not free – €49.95 incl. VAT at the time of writing this post. You can download a Free Trial here.
It is a more sophisticated screen capture tool allowing lots of different editing facilities and even screen capture to video. You can add shapes, arrows, text in your chosen font and colour. There are lots of different effects such as cut-outs as shown in the torn paper effect in this image. You can also add hotspots for html links, borders, edge effects, magnify and blur effects as well as the usual image resizing functions you would expect.
Definitely something for the business toolkit.
Image Editing Tools
1. PicMonkey
Available at pickmonkey.com.
The basic service is free with a charge for some advanced features. Free features include framing, themed overlays and effects – for example Valentine, St. Patrick's day or Halloween effects which might be useful when you have to come up with a quick image for Facebook or a newsletter.
A useful service to bookmark.
Note: Be sure your Flash and Shockwave software is up to date or you may have problems installing.
2. Picassa
Available at picassa.google.com
It's always a good idea to be aware of the Google offering in any sphere of your online efforts and they have provided a very useful image editing tool in Picassa. It allows you to organise, edit and share your photos. You can upload and share your photos on Google+ and tag your Google+ contacts. There are some cool effect here too such as Vignette, Duo-tone and Borders.
Storing your photos in Picassa Web Albums allows for a handy way to subsequently share them to your website without using up your website server space too!
3. Canva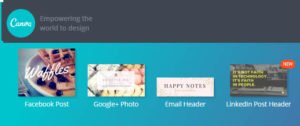 And last but not least is Canva, an invaluable design tool for those with absolutely no design skills as well as designers who just need to get something done quickly.
You can choose from hundreds of professional templates to create social media graphics such as Facebook Cover Photos and LinkedIn Post images – all with the correct dimensions.
You can also easily design and print presentations, flyers, posters, invitations and so much more.
Canva earns it's keep by offering images for as little as $1 but you can also upload your own images and use Canva completely for free. It's a great resource and something I use almost every day.
Check Canva out for yourself at https://www.canva.com/
https://www.gfxdesignstudio.com/wp-content/uploads/2016/01/picmonkey.jpg
332
400
tinacostigan@gmail.com
https://www.gfxdesignstudio.com/wp-content/uploads/2016/01/graphic-design-kerry.png
tinacostigan@gmail.com
2017-08-22 20:56:09
2017-08-22 21:32:01
Useful Screen Capture & Image Editing Tools